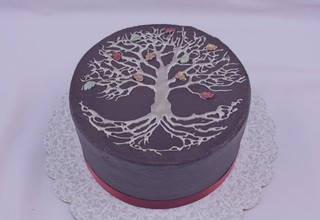 I am deeply thankful, extremely humbled and somewhat amazed that Consilience Group recently celebrated its twenty-first year. I find birthdays auspicious. An opportunity to reflect on the past, plan for the future, and most importantly give thanks for the present, for the gift of life itself.
 In many cultures turning 21 is an auspicious milestone, marking entry into the full responsibilities of adulthood. The Age of Majority. The beginnings of showing up beyond self-interest, finger pointing and hand wringing to take care of one's own business and competently care for others. In other words, time to put on the Big Girl Panties.
And is it ever!
We celebrate our auspicious birthday in a year where most everything feels auspicious. It feels like our nation, or world, is at the cusp of our collective Age of Majority. I love the bible verse that invites us to 'put away childish things,' to move beyond 'seeing in a mirror, darkly, to face-to-face.' In other words, to see the truth. And then respond as responsible, capable adults entrusted with stewardship of this world.
My husband and I started Consilience Group back in the internet Stone Age. Organizations needed a lot of help aligning their work across diverse stakeholders to configure internet-based software. Consilience means finding the common elements among disparate entities to move forward together. We founded the firm to help organizations apply this principle and ethos to collaboratively design and adopt new, shared technologies. 
One of our first clients was a county public/private partnership aiming to divert people with mental illness from jail. You see, the criminal justice had become (and twenty years later, in many places still is) the largest safety net provider of mental health services, particularly to marginalized people who are disproportionately of color. Instead of criminalizing people whose behaviors were driven by untreated mental illness or substance abuse problem, the idea was to develop a shared data system to link them with community-based treatment.
It didn't work. 
Well, it didn't work as intended. It was just too hard. The issues that held the problem in place were so much deeper and wider than the technology. It was culture. Financial and policy incentives – or disincentives. Entrenched practices, lack of trust, mutual condemnation, not enough time or resources and resistance to change. In other words, it was the whole system. 
But it also did work, in unexpected ways. It surfaced a lot of stuff that was difficult to witness – as well as a strong shared desire to address mental health issues before people hit the juvenile or adult justice systems. That desire was motivated by different things for different stakeholders, but it was a place to start, a point of consilience. 
In the decades following, initial stakeholders fostered behavioral health systems of care for children and youth, overhauled the public defender's office to deliver 'justice for a new generation', formed the area's first parent-led advocacy group for children's behavioral health in partnership with the faith community, and eventually established the Center for Health in Justice Involved Youth at the University of Tennessee Health Science Center. And somewhere along the way, a shared data system was actually launched!
Organizations and systems are living things, animated by the hopes, dreams and choices of the people in them. People create organizations and systems, either consciously or unconsciously. And despite the illusion of Frankenstein's monster, we can shape them as we want with conscious, intentional effort. 
Consciousness is realized by seeing beyond our 'darkened mirrors.' This year has ripped off our collective veil. It opened a phenomenal opportunity, as many more wake up to the inequitable manifestations, both unintended and intentional, of our unsustainable social systems. 
I say many more to affirm the legions of leaders – from boardrooms to front-line providers to neighborhood activists to spiritual communities – who have been awake and responding for a really long time.
The most effective leaders we have had the privilege to serve are largely such because they do not avert their eyes. They want to see what is really happening, what the world looks like beyond their own perspectives. Grounded in self-awareness and humility, they seek to understand what is truly needed and how they can best serve – not fix, not save, but serve. Empathy moves them to clarity, then compassion, and then skillful responsive action. They put on those BG panties and stepped up to their Age of Majority well before our 21st birthday. 
We are now all called, whatever our sphere of influence, to do what we can to co-create societies in which we all can, and want to, live.
 We can definitely do it. I say this with absolute confidence because we work alongside armies of people who already are. We know millions more in every corner and walk of life around the world do the same. 
Meredith and I thank and celebrate the people who have brought our work to this point, team members past and present, clients and colleagues and partners. And we are so grateful for the opportunity to contribute in the ways we can and rejoice in our Big Girl birthday during this collective Age of Majority!