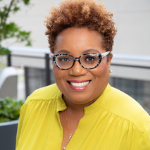 Cheryl Green, M.Ed.
Founder and lead consultant for Coplexity, Cheryl is a long-standing Consilience Group partner and trusted collaborator, bringing her expertise in education, youth and leadership/organizational development to a variety of Consilience Group projects. Cheryl offers an extensive background in education management and systems innovation, having served as a public school teacher, principal and district leader, as well as consultant to numerous educational organizations and related human development organizations across the country.
Cheryl began her work in the Mississippi Delta, serving in a variety of roles in education and helping to co-create the REACH (Revitalizing Educational Awareness of Change) Institute which helped students in the region access colleges and universities across the Country. She then took on multiple roles with New Leaders, Inc. including training school principals and leadership effectiveness work with legacy Memphis City Schools (MCS). Her work focused on developing a district-wide incentive plan for teachers, principals, and schools. She then became a Senior Consultant, then Managing Director, Insight Education Group where she supported teacher and leadership effectiveness projects with numerous educational systems across the country.
Since founding Coplexity in 2015, Cheryl has helped organizations in education and related human development fields with program planning and implementation, meeting and session facilitation and organizational development. Overall, the work is driven by helping organizations create systemic change, resolve conflict, help teams work more efficiently and move projects from strategy to action.
Cheryl has a BS in Secondary Education from Alabama A&M University, a M.Ed. from Delta State University and certified in the field of Human Systems Dynamics.