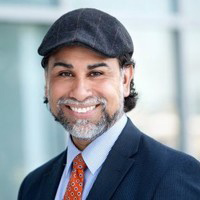 Alfredo A. Cruz
Alfredo is committed to centering family and community voice and harnessing their feedback to inform and drive policy and practice change. He has had the privilege to work with many local and state government agencies along with human services nonprofit partners to promote equitable and aligned person-centered policy and practice. While he enjoys working on projects that address community needs and gaps, of particular interest are issues related to affordable housing and holistic supports for families with young children.
Prior to providing consulting support, he served as Vice President of Programs and Special Initiatives at Foundation for Louisiana, a statewide foundation focused on social justice. He was also a program officer at the national John S. and James L. Knight Foundation where he managed the foundation's grant-making in four cities focused on early childhood and youth development. Guided by strategic investment plans developed with community leaders and nonprofit partners, he led the foundation's work to produce measurable results in children's learning by increasing access and availability to quality childcare and afterschool care for youth. This work was informed by local data on needs of children and families and models/best practices from national and local partners.
Alfredo studied literature at Florida State University where he also completed Masters studies in both Urban Planning and Public Policy.